If you're a candy maker, you know that chocolate isn't just chocolate. In order to get that perfect glossy texture that melts in your mouth, chocolate needs to be tempered. Without undergoing this process, your chocolate will look flat and discolored, and it will lack that sharp snap and velvety texture that is associated with the best chocolate houses in the world.
Unfortunately, chocolate tempering isn't quite as easy as it sounds. In order for it to be tempered properly, it needs to be heated, cooled, and heated again to precise temperatures. You don't have to do it all by hand, however, when you can use a chocolate temperer instead.
Here at Savage Bros. Co., we have the perfect solution with our tabletop temperer, specially designed and engineered for cocoa butter chocolate tempering.
Perfect for the Small Artisan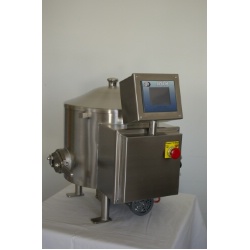 Not all candy making equipment is created equal. Large operations require giant machines that can be expensive and take up a lot of space. Our tabletop chocolate temperer is the perfect solution for the small-batch artisan because it weighs just 50 pounds and can be easily placed on virtually any standard-sized countertop.
There are many reasons why our chocolate temperer is a confectioner's dream, but what makes our device stand out is how it marries intuitive manual operation for the tasks that need a personal touch while thoroughly automating those that don't. You don't have to be a culinary craftsperson to achieve quality when it's as simple as loading the machine with chocolate, pushing the start button, and getting your tempered chocolate fast!
You'll also enjoy the following amenities when you purchase one of our chocolate temperers:
A precision PLC touchscreen that provides control over the tempering process
Easy cleanup so you can change out batches quickly
A pump that can be used to transfer or deposit chocolate
Give us a call today to learn more about our chocolate temperer and our other confectionery equipment! We'd be happy to answer your questions and help you find the right machine for your needs.