The holiday season is upon us. Nothing shows loved ones how much you care more than a basket full of handmade sweet treats. It's this holiday spirit that keeps many bakeries and candy making shops overrun with orders from the mid-November through the start of the New Year.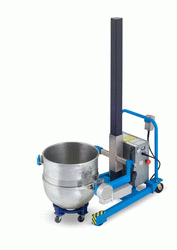 To help with your heavy load throughout the holidays and the rest of the year, Savage Bros. has created a new container adapter, the LifTILTruck. This new adapter allows you to lift and pour virtually any size, shape and brand of baking container. This means no more struggling to lift bowls, pails, bins or kettles while making your confections!
Our new Container Adapter features:
Universal straps that work with virtually all baking mixing bowls
Adapters for all size containers
News for large spiral mixer bowls
Lifts and pours square and rectangle containers
Direct pick-up of kettles from cooker mixers and stoves
Savage Bros. Is Your Go-To Baking, Candy, or Chemical Machinery Company
For more than 150 years, Savage Bros. has been manufacturing baking and candy making equipment. Throughout that time, our products have earned a reputation for reliability and longevity. Our baking equipment is built to last!
Since our start in the 19th century, we have worked to expand our product offerings to meet the needs of our customers. Today, we offer top of the line baking, food processing and chemical machinery. Our every expanding product line is designed to help our clients create confection perfection! To learn more about our products, check out our offerings or call us directly.