If you're in the candy making business, you know it can be hard work. There are many ways to make delectable candies, but not all confectioner techniques are created equal. If you want to work smarter, not harder, it's all about equipping yourself with the right confectionery equipment.
If you want to take your chocolate making skills to the next level, you definitely need to add these 4 machines to your shop:
Chocolate Enrober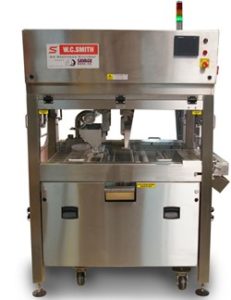 Covering bits of candy and other items in chocolate by hand can take a long time if you want to do it right. If you have high demands, or if you want to expand your candy making business, you should definitely check out the chocolate enrober.
This state-of-the-art piece of candy making machinery is able to coat a variety of materials in delicious chocolate from top to bottom. Easy-to-use touchscreen panels provide you with complete control from start to finish. Drench candy in chocolate, shake away excess chocolate, and provide each piece with special decorative details. The heated water-jacketed chocolate reservoir with agitator is built on roll-out casters for easy cleaning and changeover.
Chocolate Melter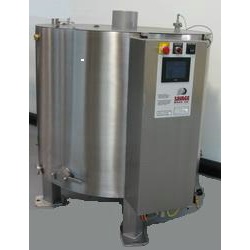 If you're making hundreds or thousands of pieces of candy for sale each day, melting small batches of chocolate can really slow you down, compromising the efficiency of the entire process. Making sure melted chocolate is always on hand is a must, and the chocolate melter can help you do that.
This massive chocolate melter has a 2,000 pound capacity and melts chocolate fast with an internal water pump. Simply plug it in, fill the jacket with water, and add milk, dark, or white chocolate. A 24-hour overnight warming cycle ensures the chocolate is ready when you arrive in the morning, and the entire machine is specially designed to feed warm chocolate into a temperer, enrober, or depositor. Add a pump for transfer or a magazine block melter to automatically feed chocolate bars into the machine.
Depositing Pump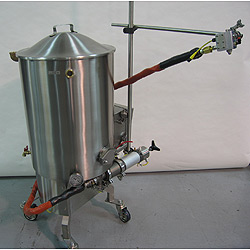 Creating consistency can be difficult in a small candy making shop. Not only do you want your candies to look exactly alike, but using variable amounts of chocolate can even end up costing you more. Keep everything consistent with the depositing pump.
The dual head nozzle provides you with your choice of spray or drizzle function. Create a uniform chocolate mist or ooze the perfect amount of chocolate out of the drizzle head. The controls feature a cycle counter that automatically stops when the proper amount of chocolate has been deposited. It integrates a melter, pump, panning head, and control in a single unit. The all-in-one design and customization of this machine allows you to create a piece of equipment that will make depositing chocolate simple and easy.
Boxed Chocolate Packer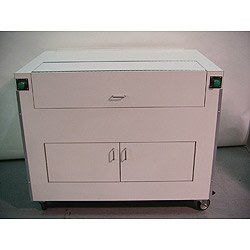 Various baking equipment and chocolate machines are a must, but you still want your chocolates to be handmade. That means packing boxes by hand, but you can waste a lot of time wandering around the shop, looking for boxes, packaging materials, and the right candies.
The one-person packer carousel is the best way to streamline the packaging process. This deceivingly simple box only takes up 12 square feet of floor space, but it can hold 180 pounds or 36 standard 5-pound bulk boxes of chocolate. You can pack 48 1-pound boxes per hour thanks to the organization of compartments and 9 revolving shelves. You'll save an unbelievable amount of time and money by using this machine.
If you're ready to take your candy making business to the next level, call Savage Bros. Co. to learn how we can customize confectionery machines just for you!