When it comes to chocolate, everyone has a favorite type. Whether you love the richness of milk chocolate or the tang of dark cocoa, there is something for everyone when it comes to this sweet treat. With the increase in health consciousness, chocolate has gotten a bad rep for being an unhealthy snack, but science is showing us a different story!
There are many health benefits to eating chocolate, including its antioxidant effect and usefulness in preventing heart disease.  New research has now broadened the picture of the healthy attributes of chocolate, and scientists have discovered that it can have amazing emotional benefits as well!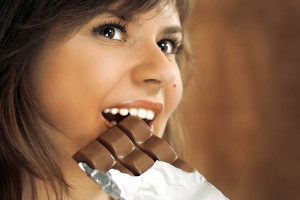 Everyone has experienced that craving for chocolate at one point or another, and now we know that there is more to it than just having a sweet tooth. When you eat chocolate, there are several emotional benefits triggered within the brain, including:
A blissful, "falling in love" euphoria
Reduction in stress and anxiety
Increase of serotonin levels
Less moodiness
Overall sense of wellbeing
With the emotional boost and health benefits that chocolate provides, you never have to feel guilty about your mid-day sweet indulgence!
Savage Bros. Confectionery Machinery Company
Savage Bros believes in the power of chocolate, and since 1855 we have been the leading confectionery machinery company in the industry. From the days of horse-drawn wagons to modern-day society, we have been providing the best in candy and chocolate making machinery to confectionery artists around the world.
Savage Bros offers a variety of chocolate processing and depositing equipment, from melters and tempering machinery to high-tech chocolate molding workstations. Whatever you need to create your sweet treats, our professional confectionery machinery company can help you take your creations to the next level!
To find out more about the exceptional service and quality chocolate making equipment Savage Bros offers, give us a call today!