Whether you own an established bakery and are looking for an equipment upgrade or have a small confectionary operation ready for expansion, having quality, professional commercial baking equipment is an essential ingredient for your success!
With countless options for professional baking equipment available, it's difficult to know where to begin. Here are three different pieces of commercial baking equipment available from Savage Bros. that can help you take your bakery to the top!
Bakery Icing & Fondant Melter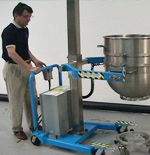 For perfectly melted fondant and icing, having aprofessional melter is critical for creating consistent, quality product. Our melters can be specially customized for your unique needs, and they will guarantee that your fondant and icing is kept warm or melted at the perfect temperature. Made of easy-to-clean stainless steel, the icing and fondant melters from Savage Bros. are perfect for all of your baking needs.
With a mechanical lifting and pouring bowl, you will no longer have to break your back dumping heavy mixing bowls while making baked goods for your commercial operation. Our impressive lifting and pouring bowls are secured to the floor for safety and feature a hydraulic lift and pour setup that can handle up to 1600 lbs. of product! With pre-set pouring, the Savage Bros. lifting and pouring bowls will ensure that you get the perfect amount every time!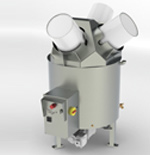 Automatic Electric Cooker Mixer
Making fudge, caramel, and candies can be a very time-consuming task. With this all-electric cooker mixer, you can increase your output and save valuable time. Virtually any confection can be created in the automatic electric cooker mixer. Its features include one person operation from start to finish, stainless steel construction, and high-tech controls that create the perfect confectionary treat every time!
Since 1855 the professionals at Savage Bros. has been providing exceptional service and quality equipment to bakers and confectioners around the world. To speak with one of our expert staff members about our commercial baking supplies, give us a call today!